Featured Uniforms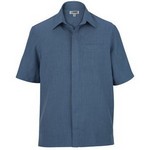 Unisex Batiste Service Shirt
Tuff-Tested™ fabric is lightweight and perfect for hospitality, valet, spa or restaurants. Fabric is soil release and is wrinkle resistant. Features covered placket, traditional collar, inset left che...
$38.28
Providing all of your company image needs since 1999!
We know you don't have time to waste; so we've cut to the chase and made it simple! But please keep in mind, we do have access to over a million products - so if you don't see what you're looking for or have a special theme or request, let us know - we'll find it!
As a premier Uniform and Promotional company, Golden Promotions & Apparel provides customized, innovative and creative promotional solutions for our clients.
*Employee Stores
*Company Picnics & Parties
*Tradeshow and Event Giveaways
*Company Marketing /Promotions
*Special Event Products
*Client & Employee Appreciation
*Golf Tournament Products
The range of Uniforms & Promotional products that Golden Promotions & Apparel supplies is virtually limitless. All of our products can be customized with a company logo or any other design. We work with our clients to identify their exact needs and help them establish and accomplish their Uniform & Promotional marketing goals. We can help you customize a program to fit your company's image and mission too!